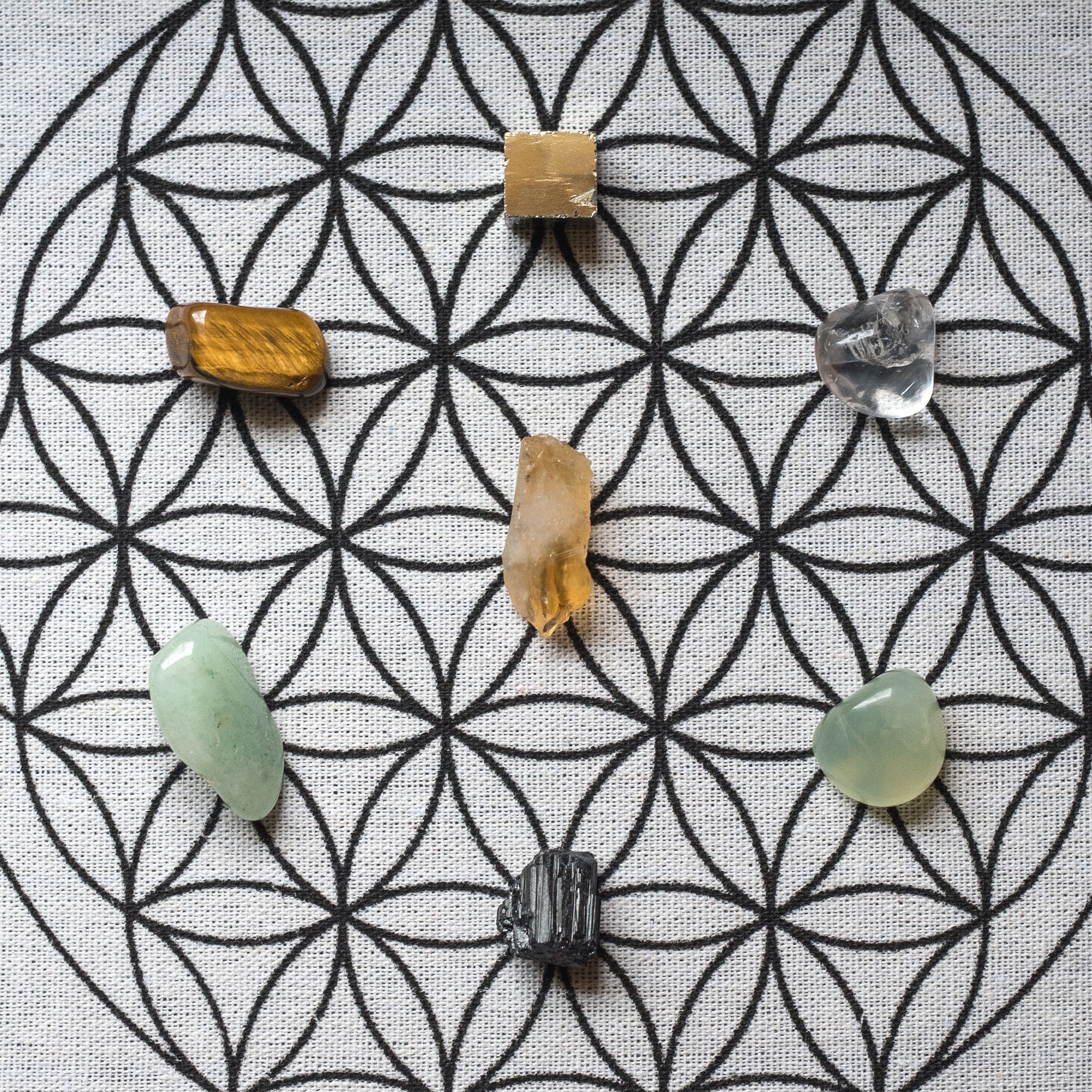 Prosperity Crystal Pouch
Prosperity pouch is a combination of crystals that are meant to align you to your path to meet what the Universe has in store for you. Often times we are the cause of our own blockages, in the form of fears and stagnation, that hinders us from things we think are unobtainable. And it's far from the truth. We manifest how and what we think. The clearer our paths are, the faster we become aligned to the things we want, our purpose and goals. This crystal set includes:
Pyrite

Citrine

Green Aventurine

Jade

Tiger's Eye

Black Tourmaline

Clear Quartz
Comes with a satin sachet to house crystals. All crystals are cleansed and charged.
sold out
Pyrite- Stone of manifestation. Protective, shielding stone that deflects from danger or harm. Enhances strength of mind and will-power. Encourages one to overcome fears and take action. Guards against ongoing control, criticism and manipulation by a person by lending the power to resist. Inspires creativity. Encourages leadership. Helpful with thoughts of melancholy, misfortune and despair.

Citrine- Crystal of manifestation. Attracts wealth, prosperity and success. Raises self-esteem and self-confidence. Stimulates the brain, strengthening intellect. Promotes motivation, activates creativity and encourages self-expression. Releases negative traits, depression, fears and phobias.

Green Aventurine- Crystal of prosperity and opportunity. Releases old patterns, habits and disappointments so new growth can take place. Brings optimism. Opens to embrace change. Stimulates leadership qualities and decisiveness. Promotes compassion and empathy. Soothes emotional wounds.

Jade- The "good luck" crystal. Helps heal feelings of guilt an defeatism. Dispels negative energy and encourages one to see themselves for who they really are. Gentle, calming, yet powerful and protective.

Tiger's Eye- Helps release fear and anxiety, aids harmony and balance, increases focus, helps to make decisions with discernment and understanding, unclouds the emotions, increases courage, self-confidence and strength of will, enhances creativity.

Black Tourmaline- Clears, purifies, and transforms negative energy into a lighter vibration. Removes fear and boosts self-confidence. Balances, harmonizes and protects all the chakras.

Clear Quartz- Amplifies intention and energy of other crystals, protects, transmutes, and clears negative energy.